MAXELL LITHIUM COIN CELL BATTERY CR1616
Products --- Batteries ---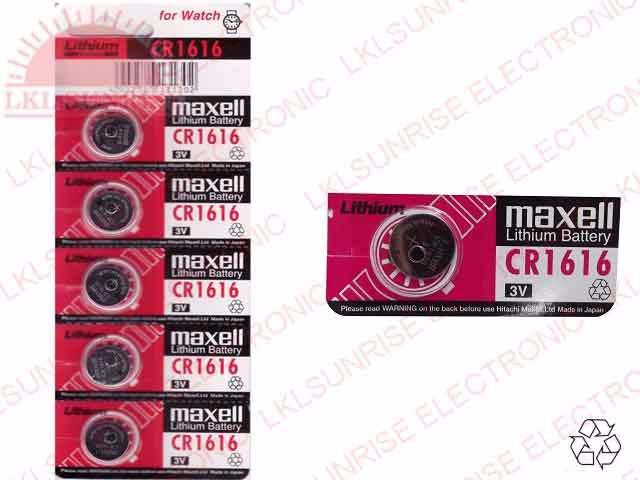 PRODUCT NAME
- MAXELL LITHIUM COIN CELL BATTERY
MODEL NO.
- CR1616
BRAND
- MAXELL
VOLTAGE
- 3V
CAPACITY (mAH)
- 55mAH
ADVANTAGES
- High 3.0V energy density. They have about twice the nominal voltage of alkaline and silver oxide button batteries.
- Stable discharge characteristics through low internal resistance and high operating voltage.Their design employs a highly conductive electrolyte which lowers internal resistance and provides a stable operating voltage.This allows for a constant power, with little change in operating voltage over a wide wide of operating temperatures from -20C to +85C.
- Superior leakage resistance and excellent storage characteristics. They employ a leak-resistant organic electrolyte, superior to other battery systems using alkaline electrolytes.The high effectiveness of the seal structure and application of sealant keep self-discharge to minimal amount of about 1% per year.